Easy Home Workout – Isolation Friendly
This is a public service announcement bought to you by LJ Kudos.
There's no way of getting around the fact that were all going to be house bound at some point over the coming weeks/months. With this in mind it's worth thinking about how we can maintain fitness levels, keep that blood pumping and staying healthy by doing an easy home workout.
Maintaining a healthy lifestyle while on lock down or going into self isolation is going to be a must.*
This will also keep you in good stead for that inevitable tug of war with the last couple of packs of toilet paper down isle 6 at the local supermarket.*
Fear not as the workout below will keep you ready for action should things escalate to the royal rumble stage.*
* Disclaimer – the sections above are meant to be a little comic relief…no offense intended.
Make Some Room – Consideration
The exercises I am going to be talking about today are for beginners and it's worth bearing in mind that we are not going to be using any weights what so ever.
Now you may be thinking how?
The thing is, basic exercises can be some of the most challenging if done correctly and by using your own body weight. There's nothing to say you couldn't take your yoga mat outside and do this in your back garden. Just keep your distance from that neighbour wanting small talk over the fence about how they cancelled the premier League and Euro 2020.
If you decide to workout inside, make sure you have enough room to lay down flat on the floor with arms straight shoulder height (like a capital letter "T").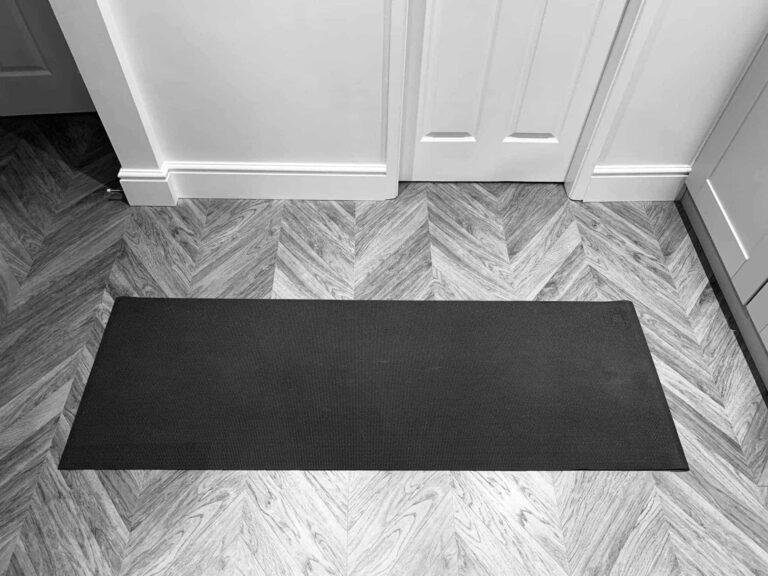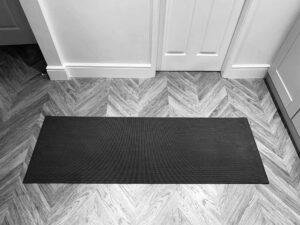 This workout should take around 20 minutes (including warm up/down) to complete and you should burn around 250-300 calories. It won't have you entering any Mr Universe competitions, but it will keep you ticking over for now.
Make sure you warm up before doing any exercises here. A good way to get the blood pumping is to do star jumps for 30 seconds, take a 10-second break, next simply run on the spot for another 30 seconds. Repeat this for 5 minutes and your heart rate should be elevated ready for action.
Exercise 1 – Push Ups – 30 Seconds
Bog standard push-ups are a staple exercise in anybody's routine. Lay on your stomach hands parallel with your chest, keep torso straight and rigid while on your toes (1). Take a deep breath, as you exhale push with your hands to do push up (2). Do this in a controlled way and don't rush. Maintain a good posture. If this is too much for you drop onto your knees to perform the exercise.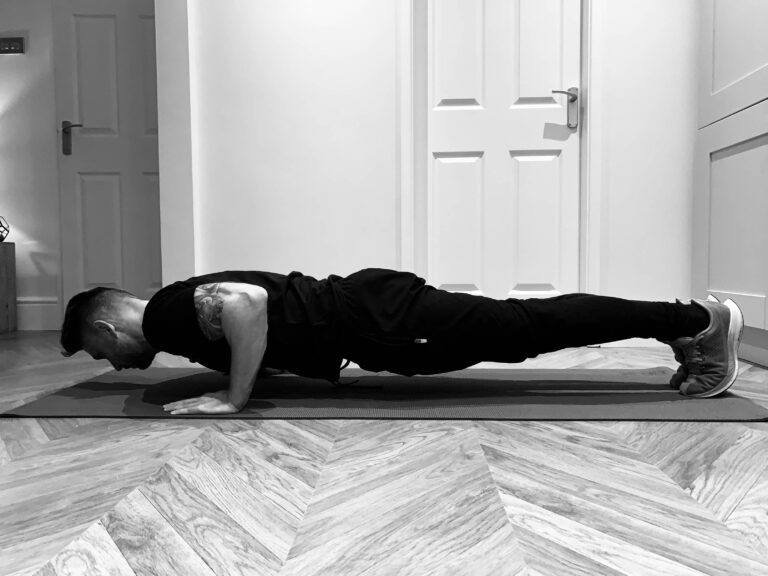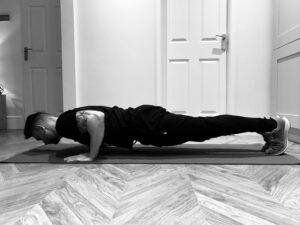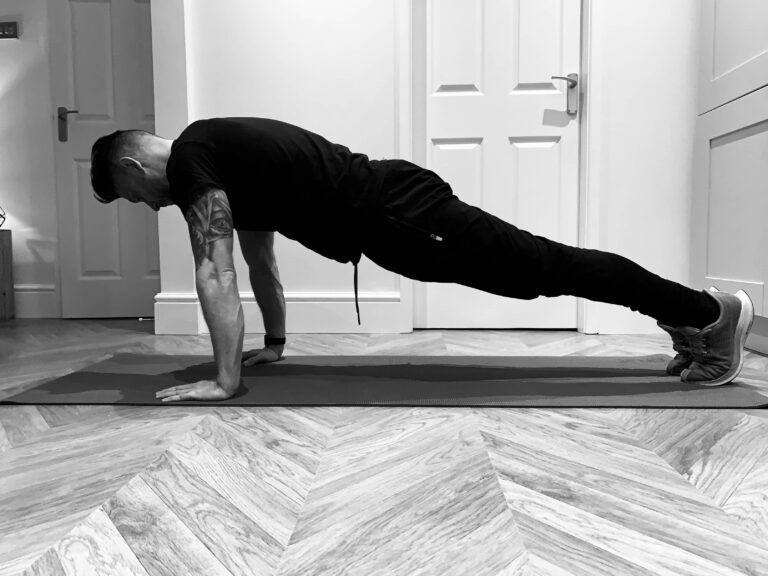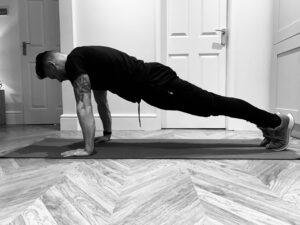 Exercise 2 – Squats – 30 Seconds
Stand up straight, have legs slightly wider than shoulder width. Have your arms parallel fingers to elbow (sort of like arms folded) shoulder height (1). Slowly squat down keeping your back straight and arms kept at shoulder height. Inhale as you squat down till your thighs are parallel with the floor ,(2) hold for a second and then push up while exhaling with your legs back to standing. Repeat this for 30 seconds.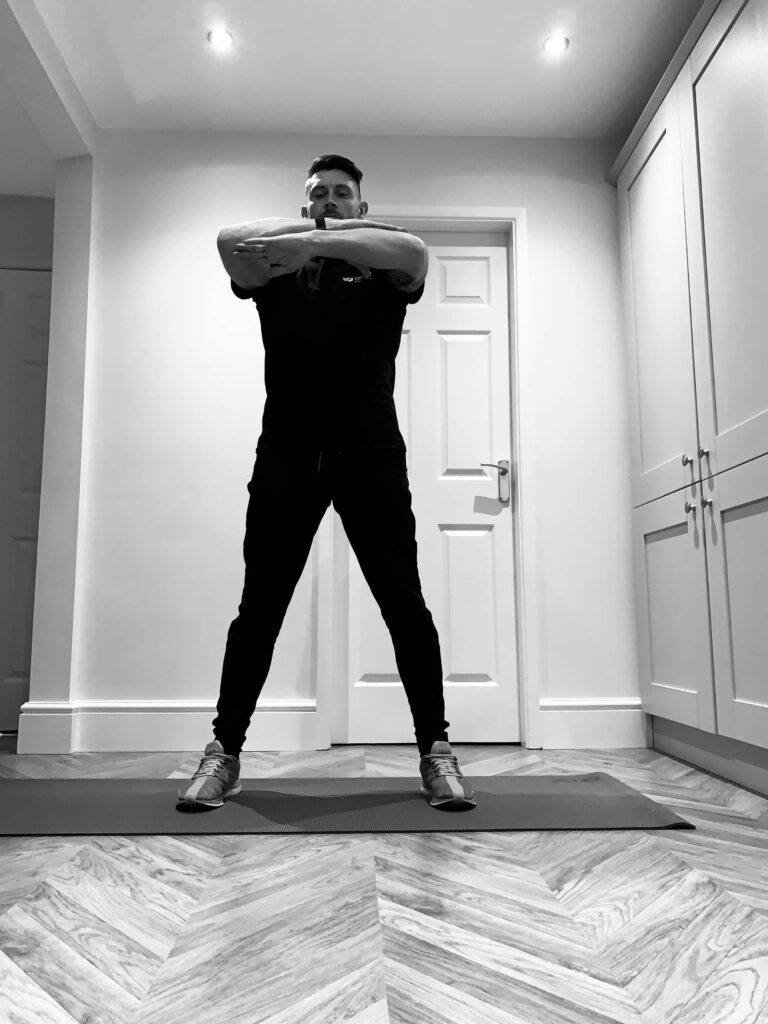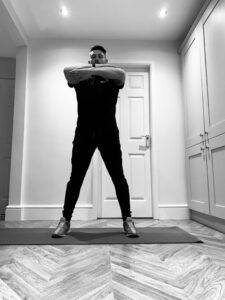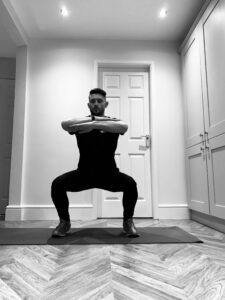 Exercise 3 – Abs – 30 Seconds
The classic bicycle. Lay on your back with feet shoulder width knees-up, palms on your temple, raise feet off floor then try to touch right knee to left elbow (1). Then vice versa with the opposite leg (2). This creates the bicycle motion and will target those abs. If this is too much try doing either single leg raises or double leg raises for the time required.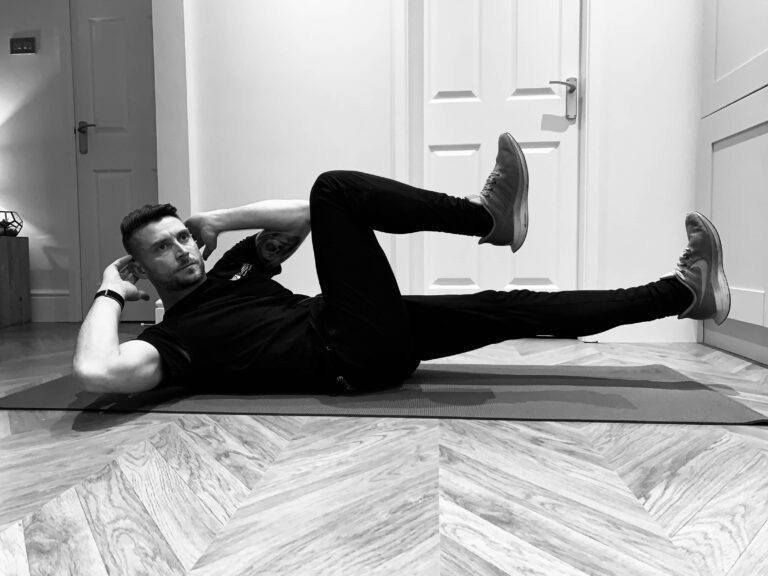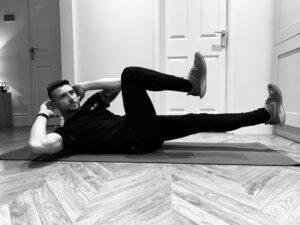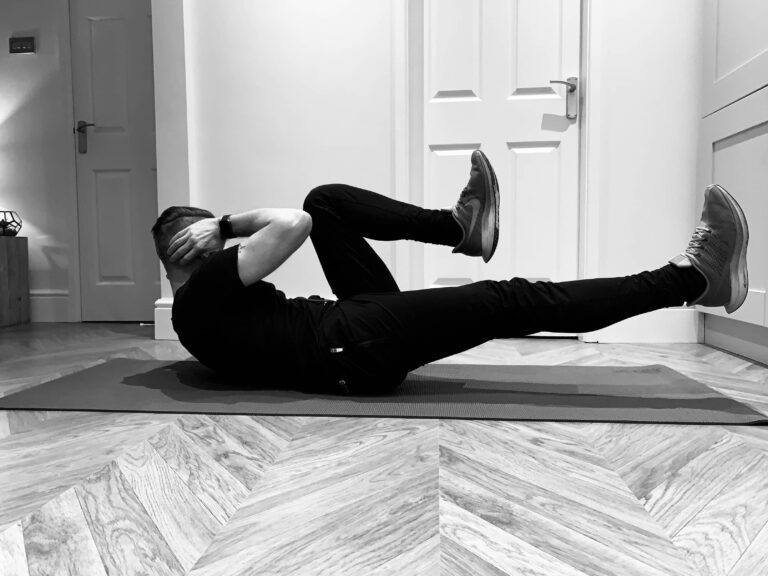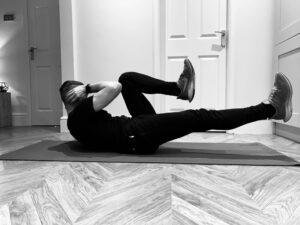 Exercise 4 – Back – 30 Seconds
For exercising the back with no weights or a pull up bar (if you have one use it) but for the purpose of this workout, you can get by absolutely fine without one.
Lay on your belly with your arms in front of you and legs straight (1) (like Superman pose). Take a deep breath and lift chest, abs and feet off the floor and pull arms towards you as if you were doing a lat pull down. Hold for a second and then return to the floor while exhaling (2). It can feel unnatural if it's a movement you are not used to.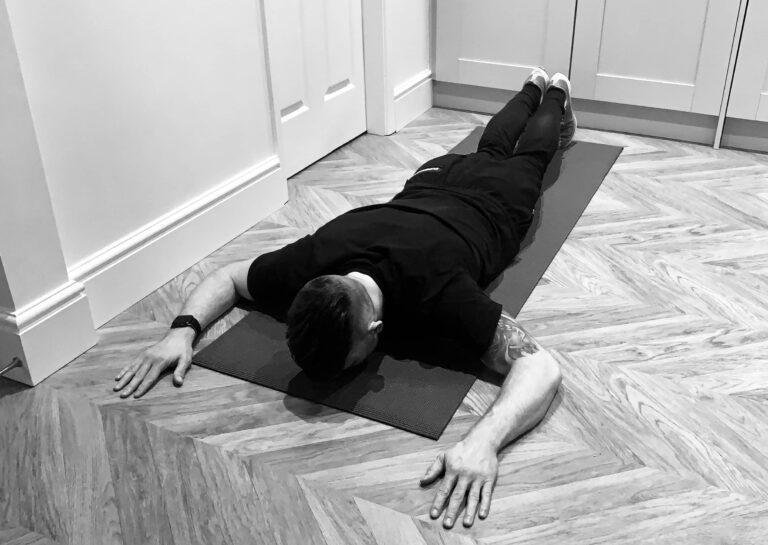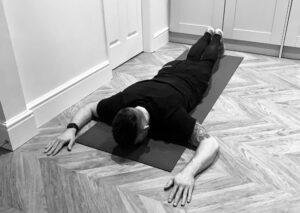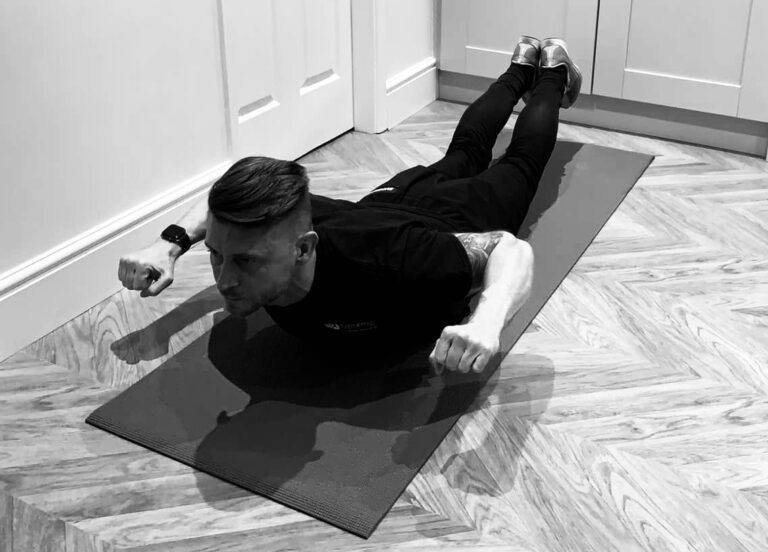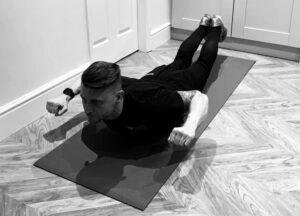 Repeat all four exercises for another three to four rounds depending on your fitness level. Always remember to maintain a solid posture and breathe when exerting yourself.
Take 10 – 60 seconds between each exercise
Take 1 – 2 minutes between each round
Warming Down to Finish
The workout is complete, make sure you take time to stretch before you hit the shower.
This is as important as the workout itself.
Hamstrings – face the wall, put fore arms on the wall above your head and place one ball of your foot against wall. Then lean forward (1).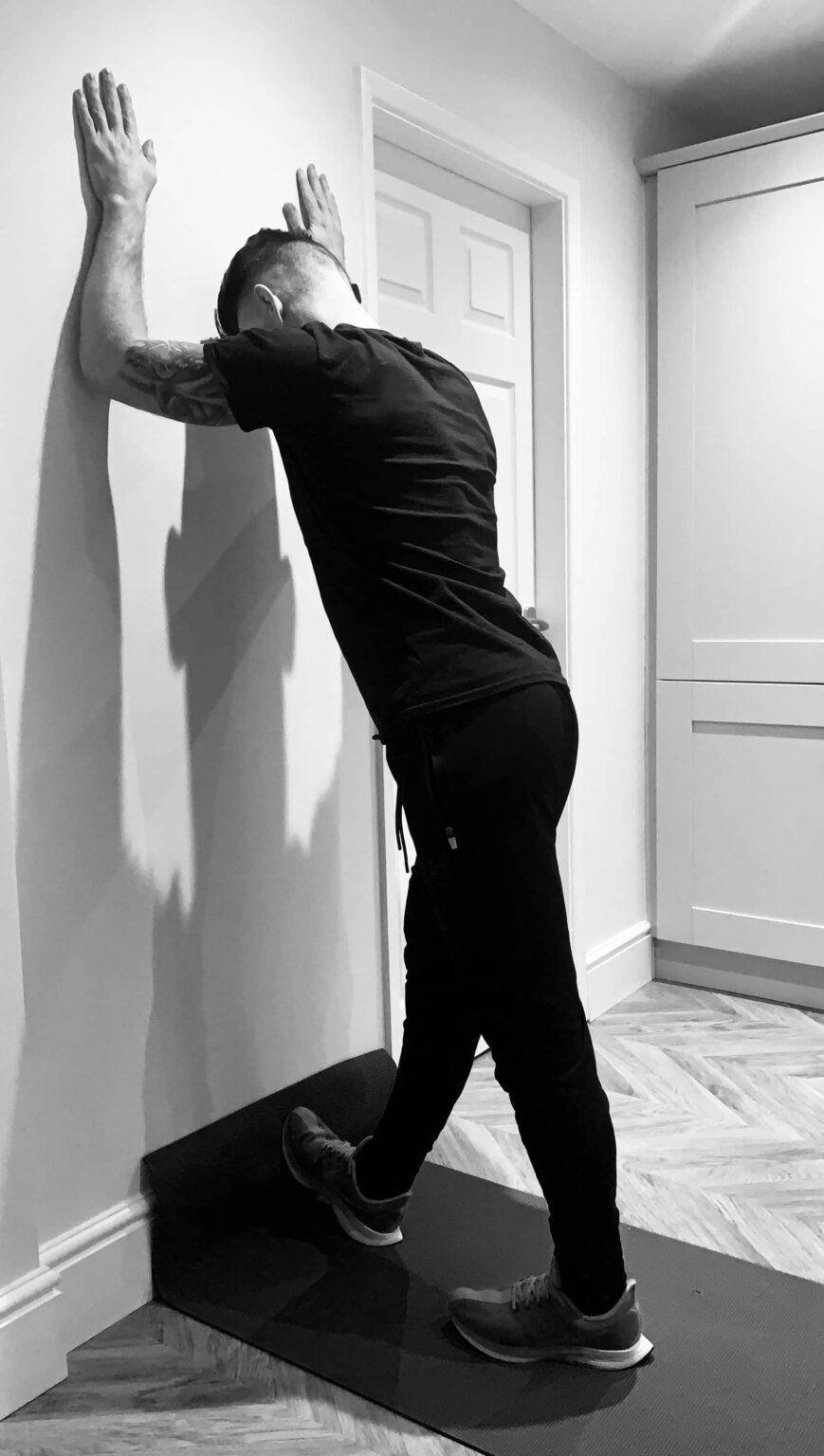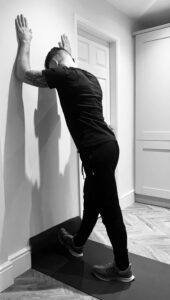 Quads – hold onto the wall with one hand to steady yourself, with the other hand hold onto the top of your foot from behind your body, your heel should be rested on your behind (2).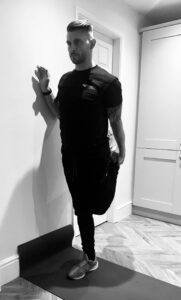 Upper body – (childs pose) drop down to the floor on your knees and open them, then lean forward and reach arms out. This is great to stretch the spine and shoulders (3).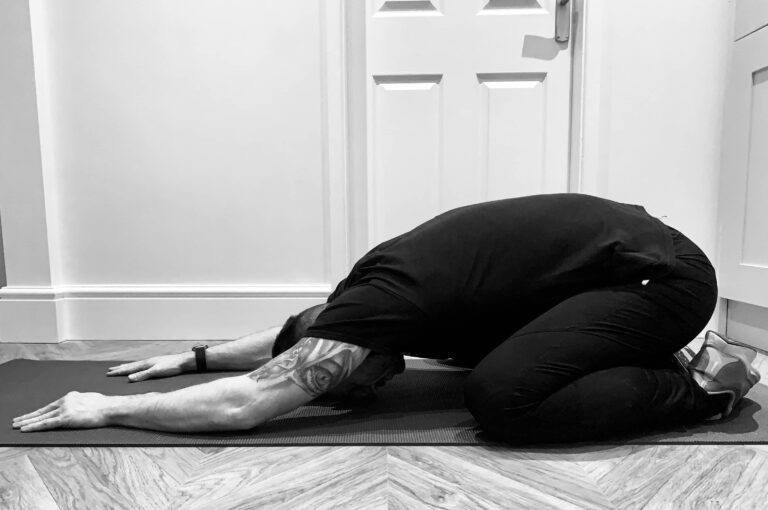 Hold each of the stretches for around 30 seconds. Once you have completed all three, get in that shower you dirty boy!
As you can see, it's a very basic workout but it will target all the major muscle groups with little/limited space available and from home. With any home workout be careful of your surroundings. In future posts we will be adding more advanced workouts to the site. For now, we will keep it basic to get us started and up off the sofa.
As we all prepare to batten down the hatches for a potential lock down, make sure you keep moving and stay positive during the uncertain times ahead.
Please don't forget to check out other posts and YouTube Channel (don't forget to subscribe) for the latest health and fitness news, CBD news, along with product reviews, meditations, recipes, workouts and if you require any CBD for you post workout therapy needs, please take a look at our store to get hold of yours now.