Vegan Friendly Protein Powder – Jersey Hemp Review
As peoples perceptions of hemp change, from the villainous outcast/pariah of the past that was abandoned and condemned to misrepresentation and ridicule over the years, to now being something along the lines of a natural choice for many after the veil of negativity has finally been pulled back on the plant.
With restrictions being lifted across the globe manufacturers are in a frenzy to release various products that showcase some amazing benefit's hemp can and does provide. I thought I would try a vegan friendly protein powder for a change to see and taste how it compares to the regular whey variation.
Brand: Jersey Hemp
Product: 100% Hemp Protein Powder
Price: £14.99
Product Size: 500g
Servings per bag: 17 (30g)
Protein per serving: 15g
My Rating: 7.5 out of 10
Product Sneaky Peek
So, what do we have here then? Jersey Hemp provide a 500g bag of protein for the price £14.99, that gives you 17 servings, that contains 15g of protein per serving. Deep breath and go… Its made from 100% Hemp seed that includes 47% protein and 13% fibre, is low in sodium, trans fat and sugar, while being high in polyunsaturated fats (Omega 3 & 6) and is gluten, peanut and dairy free, oh and finally let not forget it's Non-GMO too… inhale and relax.
See below for the table of nutritional value: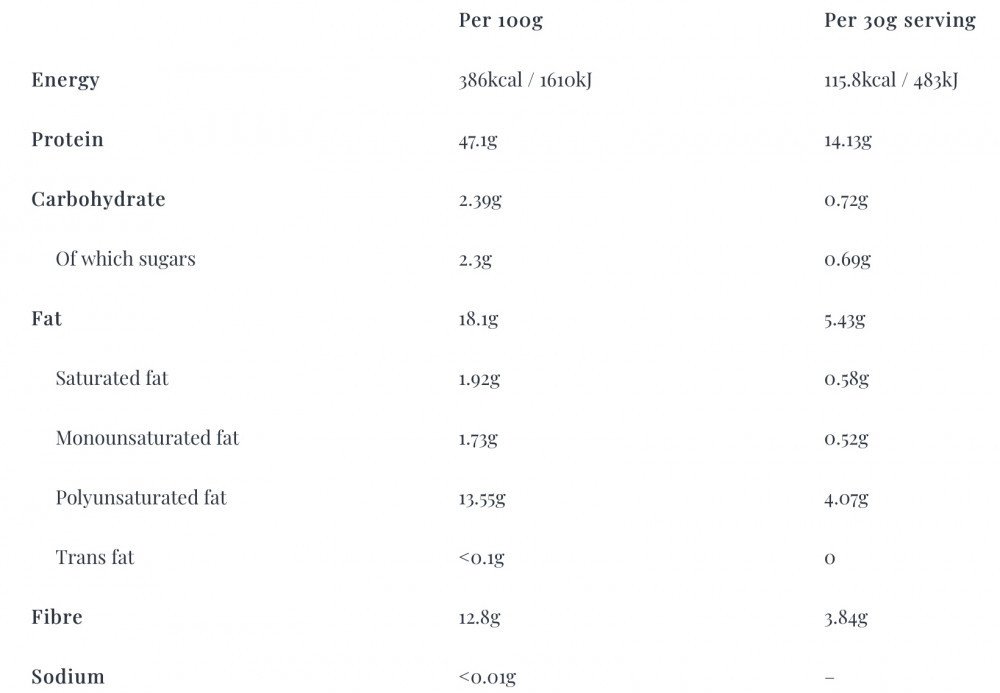 As you may be aware by now, i'm into my health and fitness, which means i'm always trying to eat and drink as clean as possible to maintain a healthy lifestyle. Being a fitness freak you are always on the lookout for new and different types of protein and how much the serving provides. Its kind of like game of top trumps weighing up the weight of the product, to the serving size, to the number of servings per bag/tub.
I have had Hemp proteins before and they have all tasted the same…with a raw earthy flavour that is quite tough to stomach after a challenging workout, compared to the sweetness of your standard whey protein Willy Wonka-esque flavours.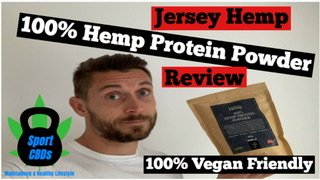 Who Are Jersey Hemp?
Its pretty much common knowledge how incredibly versatile Hemp is, not just for food, but for it's variety uses which include rope, textiles, shoes, paper, bio plastics, insulation and bio fuel. For those who are unsure, Jersey is the largest of the Channel islands between England and France.
The Jersey Hemp story originates from a passion for improving the environment with their organic hemp cultivation.
As their website states "Since it's early days, the team at Jersey Hemp work closely with local government and agricultural and environmental experts to ensure hemp production can positively flourish. Bringing high-quality produce to customers in Jersey and abroad means developing PCR (phytocannabinoid rich) CBD oils, nutrient dense hemp seed oil and hemp seed protein powder. Our expert team implement the best organic farming practice using the latest technology and engineering. At Jersey Hemp, we don't spray our plants with pesticides, herbicides or other agricultural chemicals. We are in the business of growing soil microbes and these in turn, grow our organic hemp crops".
Its refreshing to know there's still a few ethical companies out there with the right intentions. So, how does the hemp protein hold up? Not just as a post workout supplement but also a dietary supplement for vegetarians and vegans alike?
On The Job Testing
The protein comes in an understated pouch containing 500g of hemp goodness. With the label on the front giving a brief overview of how the item is made and how it's an "all natural process". How they finely sieve the raw seeds before they are cold pressed to ensure they retain all the goodness.
Next, upon opening the packet you can see that the hemp is really well ground, it's very fine and there is no sign of any inconsistency there. Then there's the sniff test…
Like a lot of hemp products, it's smells very natural and has that "earthy" aroma to it. The next thing to do was to finally see how it tastes. They suggest you add the powder to yogurts, smoothies, porridge and baked goods.
I have tried all but the baking part and I came to the following conclusion…
When it was mixed with Greek yogurt and porridge (not together obviously) the hemp flavour didn't mix too well and it tasted quite bitter, when I added a little fruit to the mix, the taste was sweeter and more palatable. The same thing happened when I added a touch of honey on another occasion… it tasted fine. I'm no sweat tooth by any means, but it's nice to have a little flavour. When I mixed it with a smoothie it took away a little of the sweetness, which isn't a deal breaker.
It got me thinking that this could be used as a nutrient booster for Those on a plant based diet. It has fatty acids, minerals and protein, as well as being gluten free.
Then I thought to myself… why don't I just simply try it with water? I know i'm not the sharpest tool, as it suggests here. So I filled up the old protein shaker with water and dropped two medium-sized table spoons in, put the lid on and gave it a good shake, like i'm Tom Cruise in Cocktail (RIP Doug Coughlin) took a deep breath and swallowed a mouthful. You know what? I think it tasted better this way, you get that nutty flavour and with an added sprinkle of low calorie sweetener, gave it that bit of sweetness with that i'm accustomed to with a whey counterpart.
The Good Vs The Bad
The good things about this protein are that it's made of 100% natural ingredients and with a little playing around you can find a good balance of how you like it.
The powder dissolves well and there's little residue left over – at times you get that grainy portion left in the bottom of your cup when drinking whey – and I don't get that heavy bloated/sickness sensation that I have at times with some whey products either (this may be down to lactose intolerance).
I have continued to train the same and not seen or noticed any drop in my body or performance…which isn't a bad thing, there's none of that "back end protein gas" and when taken with just water it's quite a light drink and doesn't give you that lag.
I don't feel the price tag is too high either. You can go down the shop and pay over £2 for a single protein bar and I know the taste isn't as sweet as other products, but you are getting a product high in natural protein and fibre. There is research that has shown over 90% of the protein in hemp seed is digestible, which allows for maximum absorption of all amino acids found in hemp by the body (impressive).
The things that may put some people off is the taste, there's no getting around that, there's also the price which isn't bad but… you can get whey protein maybe four times bigger than this for a bit more than this costs. You just have to whey up (intentional spelling) what you want from a protein powder. Jersey Hemp could look to offering various sized options, as there's only the 500g pouch on offer here.
Final Thoughts…
If you want a natural alternative to whey or you want to boost your protein and fibre if you are on a plant based diet, then this will cover those bases. Yes, bigger quantities could be available and whey options are cheaper in comparison, if your after a clean eating or drinking supplement then please give this a try… just don't be bitter if it's not got that sweetness you crave (see what I did there?).
ADD CODE: HEMP10 for extra 10% off at Checkout!
Please don't forget to check out other posts and YouTube Channel (don't forget to subscribe) for the latest health and fitness news, CBD news, along with product reviews, meditations, recipes, workouts and if you require any CBD for you post workout therapy needs, please take a look at our store to get hold of yours now.