Upper Body Kettlebell Workout – 6 Exciting Exercises
Following on from our previous post a "full body kettlebell workout", we are now focusing on an upper body kettlebell workout for you to follow along with on this occasion.
You may or may not be aware that we are big believers in Kettlebells here at Sport CBDs, they are a great way to get a full body workout with just the one piece of kit. Don't get me wrong, you may not get the mass of body builders with a kettlebell, but I don't think that's the aim here anyway. If you want to put on mass, stick to the heavy weights.
Amazingly Versatile
The great thing about kettlebells is how they increase things like functional fitness and cardiovascular performance, which is the kind of training we aspire to here.
Whether you are new to kettlebells or not, there's no denying their versatility, you don't even need to use a heavy one to benefit from using them.
Safety Briefing – Important!
As ever, when using a kettlebell (KB) please make sure you use one that you are comfortable with, don't get or use one that's too heavy because you could do yourself a serious injury. Let's not forget that you need a clear working space to swing the equipment without fear of damaging anything around you (furniture, precious family heirlooms or the TV).
Please also remember when you are flipping the KB onto your forearm, that you cushion the weight of the KB to save it bashing your arm and potentially hurting yourself.
Please take your time here and bear in mind the exercises here are intended for information purposes and you should perform the exercises at your own risk, we at Sport CBDs can't be held responsible for any damage or injury inflicted doing this or any other workouts we post.
Upper Body Kettlebell Workout – Details
The workout will use one KB and work the upper parts of the body which include the biceps, triceps, deltoids, abs, back and chest. We will also be using of the lower body with us doing swings that work the glutes, quads and hamstrings.
The workout in question will involve doing the exercises for 1 minute, then 15 seconds rest/prepare for the next exercise, there are combinations of exercises which work various muscle groups at once. We have six exercises in total, with two of them switching arms as they involve us using one arm for the exercise only.
The workout will take around 20 minutes to complete with two rounds in total. If you are more advanced you can do a further round or use a heavier kettlebell (warning).
Please click on the image below to follow along with the workout in real time.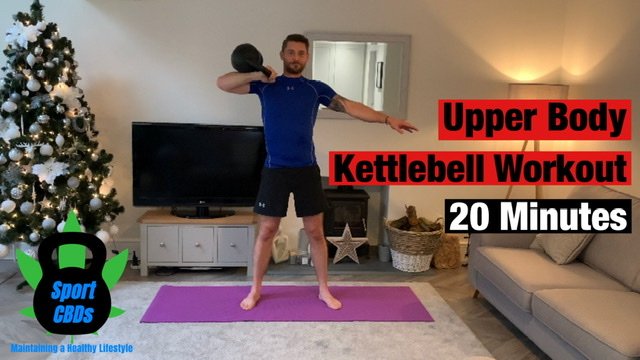 Exercise 1 – Over head Swing
Stand with your legs slightly wider than shoulder width and have the KB on the floor between your legs, pick the KB up with both hands on the horns and begin to swing the KB between your legs, then swing the KB in front of your body but we are raising the KB above our head, then swing the KB down and back between your legs and repeat exercise.
Exercise 2 – KB Press Up Side To Side
Place the KB on the mat on its side with the horns on the floor, then place one hand on the KB and the other hand on the floor in a press-up position. Then do press-up and move both hands on the KB, press-up, then take original hand off KB to the mat and press-up, then repeat exercise for duration of time.
Exercise 3 – Overhead Pull, Sit up & Press
Lay on the floor, with legs straight and KB above your head with arms straight. Lift the KB over your head till arms are pointing straight up, then sit up keeping arms straight and legs on the floor, lay back down, lower KB to chest, press it back up till arms are straight, then lower KB back over your head to the floor, repeat exercise.
Exercise 4 – Bicep, Shoulder Press & Tricep's
Stand with legs slightly wider than shoulder width and hold KB by the horns against your thighs, then curl the KB to your chest, then press-up above your head, lower the KB behind your head and then lift back above head, lower KB back to chest, then lower it again to the starting position, then repeat exercise.
Exercise 5 – Shoulder Forearm Raise
Stand with you legs slightly wider than shoulder width and have the KB between your legs. Lift the KB up and flip it over onto your forearm with your elbow touching the side of your body, then lift your elbow till its parallel with the floor and then lower elbow back to your body, repeat exercise, then lower KB to floor and then switch arms.
Exercise 6 – Suitcase Swing & Balance Bell
Final exercise here…so finish strong! Stand with your feet slightly wider than shoulder width again, have the KB in your hand as you would a suitcase or bag. Then swing the KB forward until the KB is upside down and then hold for a second, this is great for working your forearms and grip strength, then swing the KB back down to the side of your body and repeat exercise, then switch hands.
Cheeks Puffing
If you have tried this upper body kettlebell workout and found it useful, then please comment below and let me know your thoughts as I would love to hear them. If you wanted to get your hands on a new kettlebell or have never had one, then click here to get yours now.
Please don't forget to check out other posts and YouTube Channel (don't forget to subscribe) for the latest health and fitness news, CBD news, along with product reviews, meditations, recipes, workouts and if you require any CBD for you post workout therapy needs, please take a look at our store to get hold of yours now.