Under Armour Clothing – Fitness Review
There is no doubt that maintaining a healthy lifestyle is now more important than ever, with a shockingly bad average of one in four adults in the UK being classed as obese. These stats were taken way before the current global crisis we are facing after being locked down in our homes for however many months. It's not just important to get up, get moving and get a sweat on…but wearing the correct attire for the task in hand is crucial!
There is now a massive industry for fitness clothing and quite rightly so, there's nothing worse than training in the wrong kit, it can put you off working out. Under Armour clothing is one of the leading brands that you should bear in mind when purchasing your next set of workout gear.
Brand: Under Armour
Products: Mens Intelliknit 2.0 Half Zip – UA Challenger II Training Trousers – Mens UA Tech Boxers
Prices: £77.97 – £35 – £30
Product Sizes: S – XL
Material: Polyester & Elastane
My Rating: 10 out of 10
Best place to buy: Under Armour
Under Armour a Different Direction?
I can't think of anything worse than training with inadequate clothing, it can hinder your performance and in certain situations cause you injury. With numerous sports brands around today hustling to get your hard-earned cash, there's a great selection of manufacturers to choose from when deciding on a new gym kit for the season. Under Armour clothing is one of them and they are well worth your consideration.
Recently, I decided to treat myself after my old damp and fusty kit had seen better days, but where to start? OK, so you have the usual suspects such as Adidas, Nike, Puma, Superdry and Lonsdale. However, none of the selection any of these had at the time caught my attention.
Randomly I thought…who else is there? For some reason "The Rock" popped in my head, as I remembered seeing him looking hench in… Under Armour…so decided to go rogue and check them out!
After a thorough check of their website I decided on a few new bits and eagerly waited for the postman, like a dog at the front door!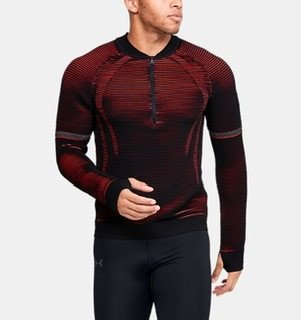 Great Expectations
When I received my order it was like Christmas day, as I frantically unwrapped the boxes I had received. I went for the Mens Intelliknit 2.0 Half Zip top, a pair of UA Challenger II Training Trousers and a pack of Mens UA Tech Boxers…BOOM!
I quickly stripped of in the kitchen and tried on my new stitches with a massive grin on my face. Luckily, everything I had ordered fitted like a glove…and a surgical one at that.
The first thing I noticed when unwrapping the goods was just how light they all felt, it was as if there wasn't anything in the packaging. I have had training gear before that looks good, but the weight lets them down…not the case here.
First impressions of the 100% polyester top was that it felt different to anything I had touched before, The material is known as "Intelliknit". This has a unique construction that makes it lighter, warmer, more breathable, faster-drying and more comfortable than the other layers you'd normally train in when its cold. The best way to describe the design would be like a ribbed knitted jumper. I absolutely love the design of this black and red top. When I saw it, I fell in love with it instantly as it was very unique looking with its accordion like ribbed design.
The training bottoms are a standard black polyester and elastane with zip pockets on the thigh and the UA logo on the left quad area.
The underwear was another surprise. All guys can agree that we suffer from, how could I put this? Perspiration around the private parts, no matter what brand or style we wear. These boxer shorts are made out of UA special material which wicks away sweat and increases air flow around your delicate area. I went for a black and grey pair, these are also made from polyester and elastane.
The question now is…how do they all perform when training?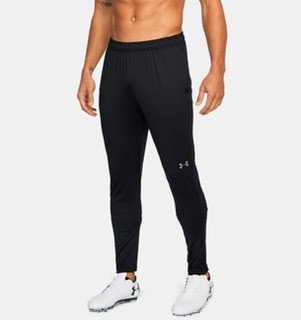 On The Job Testing
The top is fitted and feels comfortable when wearing, it keeps you warm, well regulated and does not restrict movement when working out. It has thumb holes and unzips from the neck to the chest (hence half zip namesake). Even though the days and nights are not too cold as yet, the top does a great job of maintaining your body temperature, while being breathable as well. There is a lot of elasticity to the top and it fits the contours of the body well.
It's the same for the bottoms. They are lightweight, have a lot of give in them and are extremely flexible and feel very soft and comfortable on the skin. They are quite fitted as well, just the right amount I think, they softly hug your calves, while giving you more room from knee to waist, but still fit nicely. You can undo the zip around the ankle should you want a bit more room around the calf…though I doubt anyone would as mentioned before, they are soft and comfortable.
CBD Armour aligncenter" src="https://www.awin1.com/cshow.php?s=2437024&v=17948&q=368270&r=727353″ alt="Under Armour Clothing" width="468″ height="60″ border="0″>
The underwear for me were the surprise package (pun intended), as I thought i'd give them a go. Upon pulling them up my "Captain Jack Sparrow" legs, I could not believe how they felt on…they were extremely comfortable, the softest underwear I had ever worn and I couldn't even tell I was wearing them!
They have a working fly area, an articulated mesh fly panel and gusset, while being breathable and reduce moisture in those problematic areas.
It kind of felt to me – dramatic here – how right it was wearing them and that I had been missing out all along with only just stumbling across such an awesome pair of pants!
Like a Pro Or No
The things I like about all the products here is that they allow you to train at the level you want…what I mean by that is, they won't hinder your performance, if anything they will increase it. You won't feel restricted and you will have full range of motion whether you are squatting – we have all blown out the bottom of our shorts/leggings – or you are doing some bag work – thinking you are Tyson Fury – you can rest assured these products will hold up during intense sessions.
Another impressive thing about these clothes is that they dry at a rapid rate while training, which is great as there's nothing worse than being all wet and sticky and your clothes, but its also important to allow your body to maintain ventilation and let air in and out. It shows how breathable the material is, as after they have been washed they dry almost instantly.
I think the items are fairly priced, some would consider them to be on the expensive side. However, you are going to be paying a similar price for some brands mentioned earlier anyway. The design of their products has come along way since UA first came on the scene and I think it shows with how popular the brand has become over recent years.
Wrapping up – Fit For a King
If you are in the market for some new training gear, you can't go wrong grabbing some Under Armour clothing. They are lightweight, comfortable, breathable, soft and have the elasticity needed to rotate and pivot when training. I don't think I would consider using another brand at the moment, with these really being at the tip of the spear with their understanding of what an athlete requires when training.
The big surprise for me was how good the underwear is and how well they keep moisture away and maintain breathability even on those warm and stuffy days at the office…let alone a HIIT workout. If anything I would highly recommend buying a pack of these, nothing I have worn comes close to the comfort of wearing them. The clothing in general is a must for anyone looking to compliment their fitness regime.

Please don't forget to check out other posts and YouTube Channel (don't forget to subscribe) for the latest health and fitness news, CBD news, along with product reviews, meditations, recipes, workouts and if you require any CBD for you post workout therapy needs, please take a look at our store to get hold of yours now.