Naipo Handheld Percussion Massager Review – Tension Prevention
Ask anyone with a bit of knowledge on fitness how important it is to have, do or get regular maintenance on your body to help maintain and prevent injuries from occurring, even occurring repeatedly. If you can't afford regular sports massages or you may not want them and you workout often, it's definitely worth considering some kind of percussion massager to help relieve tension in tight muscles all over your body.
Product Overview
Brand: Naipo
Product: Handheld Deep Tissue Massager
Price: £29.99
Best Place To Buy: Amazon
Functions: 5 modes and Various speeds
Features: Variety of different heads and Docking Station
My Rating: 8.5 out of 10
Massaging The Figures
If you are in the market for a percussion massager you may want to consider the "Naipo Handheld Deep Tissue Massager" as a way to compliment your fitness regime or as muscle therapy for an injury. The massager is 40cm in length and weighs 800g, it comes in a sleek black design and is cordless with various extras that include five interchangeable heads (more on these later), a docking station and a power cable. It can be used for a single period of 20 minutes before it automatically turns off (to prevent overheating they say).
It is relatively quiet and has five different modes of massage and five levels of intensity, with over three hours of use without the need to charge. It has a good handle for gripping and they say you could carry it in your handbag? However, I can't really see anyone doing this unless it's in your gym bag maybe?
Good Vibrations – In Depth
OK, so Let's take a closer look at this…
Firstly I will say that this is a real massager and not one of those "massagers" that you find in some Sunday paper supplements that are basically vibrators, I have been caught out with one before, when I say caught out I mean that I bought one for massage therapy, only to find it was better used in an adult film (Apologies for lowering the tone so early).
It was quickly returned unused and in original packaging. As mentioned it's a percussion massager and this means the head of the massager works by very quickly moving in and out to create a piston like motion as opposed to simply vibrating as other products do. With the various settings and speeds you can get a good deep tissue massage by working it around any specific area and finding the right spot.
I suffer with my hamstrings, groin and IT band, so this is really helpful for that. You can put a little pressure on the area in question but not too much, as I find the weight of the massager is enough to get into those tight spots.
You kind of feel like Master Chief from Halo holding this, as it resembles some of the weaponry from the Xbox games back in the day (pointless observation for you there). The handle as mentioned has a good grip and you have no problem holding it. Another bonus is that you don't get any vibrations gripping it while it's on which is good, as I have found that some of these can give you that carpal tunnel numbing sensation holding them.
As mentioned, it comes with five different heads for use all over the body. I'll run through the different heads supplied and what they do:
4 finger massage node – this is meant to mimic the touch of fingers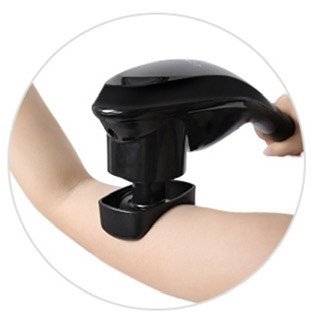 Curved massage node – for use on arms, thighs, calves, shoulder and neck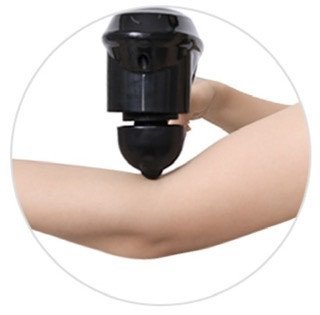 Trigger point massage node – good for pin point massage on the back and legs
Intensive massage node – it covers larger areas with its triangular head for the legs and back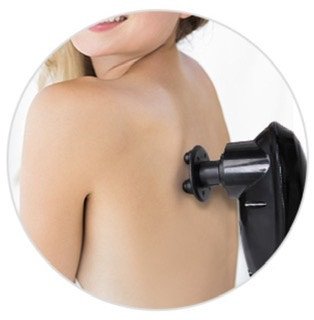 3 point round massage node – works well on soles of feet, legs and back
The docking station is a nice touch to store the massager and heads, the only problem is that it doesn't charge it, but you can simply plug it in to the massager itself while docked. Plus not all the heads fit on the dock, so pick your favorite three! The thing I like about it being docked is that you can just grab it while passing and work on a bit of tension whenever, as the design promotes it to be grabbed in the dock I feel, as opposed to it being stored in a case.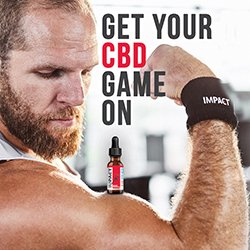 Issue With Tissue – Pros & Cons
The thing I like about this product is that you can massage your own back with ease, as it can reach anywhere without straining. As massage guns are great, but you can't really reach your back and that was a big thing for me. The battery life is decent and allows for a good amount of use before the need to charge. With the variety of heads included you can chop and change them for any muscular occasion. I think it's a good quality product and very well priced, considering some massage guns can cost hundreds of pounds/dollar's. Its easy to use and does a good job on any part of the body. The different modes work well with a variety of different pulse settings.
The one thing I would say could be improved on is the material of the heads, they are OK and work fine, but I would have liked at least one head that was a hard rubber as all the heads are made of a hard plastic material. The percussion depth could have been a little longer also, but then if they did that the massager could bounce on the body and potentially cause further injury or damage, the design of the massager doesn't warrant it as guns do.
The verdict
For the price I would recommend this to anyone looking for a percussion massager at a very reasonable price, that will do the job without spending hundreds on it. Don't get me wrong, some massage guns out there are very good and work wonders for athletes around the world on their recovery and injuries. As an entry level percussion massager this is worth purchasing.

Please don't forget to check out other posts and YouTube Channel (don't forget to subscribe) for the latest health and fitness news, CBD news, along with product reviews, meditations, recipes, workouts and if you require any CBD for you post workout therapy needs, please take a look at our store to get hold of yours now.