GRWM – Getting Ready To Attack The Day!
Have you ever wondered what a middle-aged man does every morning to get ready? Probably not hey!
However, we thought we would do a get ready with me video for you (GRWM), just so you could get a glimpse into the daily life of someone who isn't afraid to add a lotion or eye cream if it's required (you go girl!).
You will be familiar with me…Lee (from Sport CBDs) and my pursuit of living a healthy lifestyle by now – or not if it's your first time here, then welcome – and that living this lifestyle means not just exercising regularly, but also looking after yourself by keeping your skin and body healthy too.
Influences Imprinted
When I was the spritely age of 17 or 18 years old, I watched a movie called "American Psycho" which was based on the cult classic novel written by Bret Easton Ellis.
Now, it's not the sinister and macabre antics of Patrick Bateman that made an impression on me…it was the way he looked after himself.
The deep pore cleansers, anti aging eye balm and the protective lotions he used to keep his skin soft and smooth. Ever since I saw this I have made a point of looking after myself in this way too, not to the extremities Patrick went, but to make sure I always made an effort to look my best and keep my skin and body looking and feeling as good as possible.
Getting Ready With Me
Let's fast-forward over twenty-five years and see that I still try to look after myself as much as possible, especially now I'm 41 years old and my skin and body are on the decline. Not that I'm an old saggy back of bones, but it's still important to me to keep on top of my skin health.
In this post I will be going over what I do in the mornings to get ready on a daily basis, this will include exfoliation, lotions and potions!
If you would like to watch me getting ready with grooming hints and tips, then please click on the image below to watch the video.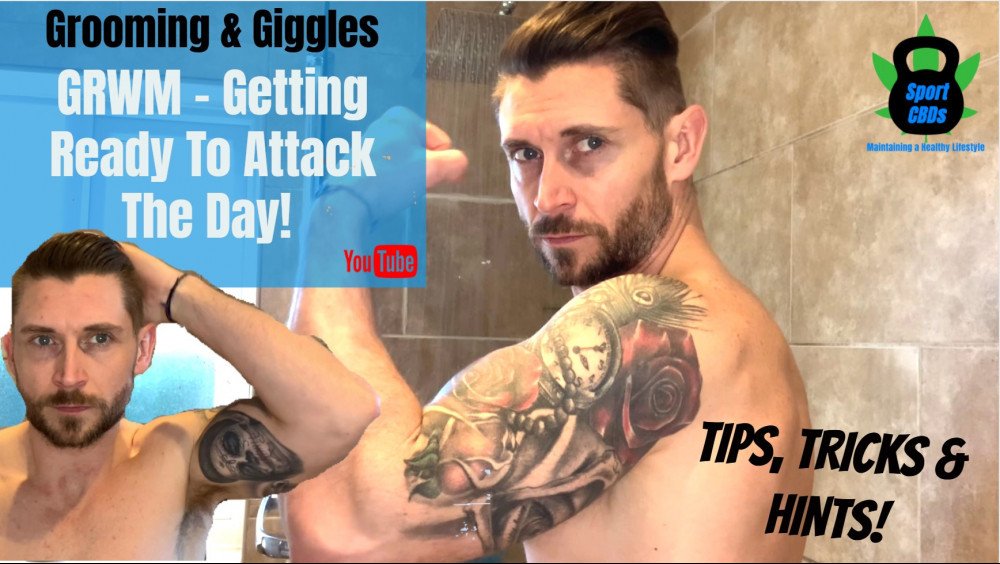 Let's Get Ready To Rumble
So where do we begin? Let's start with the shower and what I normally do day to day. On three days a week I use an exfoliating hydrating scrub on the face.
This is great for keeping my face fresh and soft, while the exfoliation helps remove dirt and dead skin cells that build up through the day and week.
I never rub too hard as I don't want to damage the skin and irritate it. This has happened on the odd occasion, so always make sure you rub softly when applying an exfoliation product the face.
I also use an exfoliation mit on my body for the same reason as the face…to keep my torso smooth and fresh, I simply apply a bog standard shower gel to the mitt and it lathers up nicely.
I then turn the shower off, so that I make sure I exfoliate every inch of my body, again taking time to rub the skin and but not too aggressively that it is painful.
I didn't wash my hair on this occasion, as I will leave this for another post, along with any grooming requirements like chest hair and man scaping.
After exfoliating all over my body, including between my tootsies (toes) then I will turn the shower back on and rinse all the bubbles and soap off.
Shower done, now on to the next stage.
It Puts The Lotion In The Basket
I will quickly dry myself head to toe then begin to try to make myself presentable for the day ahead. The first thing I do is to clean my teeth, this has been a tricky one for me for as long as I can remember as I suffer with sensitive teeth, so I have to be careful about what products I use, as anyone who suffers with sensitive teeth will tell you that it's a very painful sharp feeling that could have you blubbing like a child.
Recently I have been using a toothpaste from Marvis, which is an Italian brand that I'm not familiar with but tastes and feels amazing.
It's a little more expensive than normal toothpaste, but I don't thing I will use anything else after this. I don't have any sensitivity issues and the flavour is beautiful (as far as flavours go). I also use a Phillips Sonicare toothbrush which I have used for a good while now and it does a great job of keeping my camel teeth clean and healthy.
After my teeth it's time to apply my lotions, I use Hawkins & Brimble skin balancing moisturizer. It's dairy free and suitable for vegans, has no colourants and free from mineral oils. I apply two squirts to my face and press lightly while I rub on my skin. Then apply another two squirts to my beard and neck.
Next, I will moisturize my body with an aloe Vera based lotion, I suffer with dry skin, so have to moisturize daily, if not every other day. This isn't down to vanity, if I don't do this I get itchy skin that feels uncomfortable throughout the day.
Hair Care
The final step for me is obviously my barnet, this normally is a case of rubbing some product in my hands and running it through my hair. I use Uppercut deluxe pomade – strong hold. This works great and holds my hair well, It gives it that "1950s Barber shop" look.
My hair is slicked back and this product works well to hold my hair through a demanding day of sitting in an office. If I have to go outside and use the forklift, I know my locks are not going to falter and ill still have that "barber shop" finish.
I will add a roll on deodorant and a subtle Cologne, like a Chanel Bleu or Invictus by Paco Rabanne, then I'm ready to attack the day and face whatever challenge comes my way.
Bring It On
So there you have it, that's my very glamorous daily routine for getting ready. It's not exactly to Patrick Batemans standards, however, his influence has still stayed with me through all these years and the movie still makes me smile, every time he introduces himself in the film.
If you have enjoyed this get ready with me post and found it useful, then please comment below and let me know your thoughts as I would love to hear them.
Please don't forget to check out other posts and YouTube Channel (don't forget to subscribe) for the latest health and fitness news, CBD news, along with product reviews, meditations, recipes, workouts and if you require any CBD for you post workout therapy needs, please take a look at our store to get hold of yours now.
If you want to get your hands on any of the products mentioned here or in the video, then click on the images below.