Full Body Kettlebell Workout 20 mins | No7 | Kettlebell Workout at Home
Hi, my name is Lee and in this video, I'm going to show you a great kettlebell workout that will work your entire body. This workout is perfect for people who don't have a lot of time and want to get a great workout in without leaving their home. So let's get started!
In this video, I'm going to show you a full body kettlebell workout that you can do at home in just 20 minutes.
There are 8 exercises in this kettlebell workout with 2 rounds.
If you are looking for a quick and effective full-body kettlebell workout? This video is for you! In just 20 minutes, you'll work your entire body with this simple but challenging routine. Give it a try!
You'll start by warming up with some regular kettlebell swings. Then, you'll move on to more challenging exercises, doing as many controlled reps as possible within 45 seconds with 15 seconds break until the next exercise.
This workout has been done once again, in the EMOM style format. EMOM workouts are great for fat loss as they help to keep your heart rate up and burn more calories in a shorter amount of time.
EMOM, or every minute on the minute workouts are a simple and effective way to put in a lot of work in a short amount of time. An EMOM can be performed for any length of time. This structure allows people to get creative with their workouts and easily scale them to be more difficult as your fitness level increases.
So, if you're looking for a full-body kettlebell workout that will give you results, this is the video for you! Give it a try and let us know how you do in the comments below. It's perfect for beginners or those who are short on time. So, give it a try today! This is a great kettlebell workout at home for you to try and is a full body workout.
Get your Kettlebell here.
The 8 exercises that I have performed with one kettlebell:
Overhead swing
Lateral lunge
Swap sides
Legs raised & press
Hammer curl, horn press & hold
Swap sides
One arm pull
Swap sides
Overhead hold & crunch
Plank pass through
It's easy to forget what you can do with a single kettlebell. This kettlebell chest and back workout is great for any fitness level. No matter the weight, you can squat, hinge, row, push, press and swing through almost any exercise, while getting a heavy sweat on all with one moderate-to-heavy Kettlebell.
If you're finding it difficult to get enough rest between exercises in a class, don't be afraid to decrease the reps or modify the exercise to your fitness level.
Click on the video below to follow along with the workout.
New to kettlebells? Here are all the videos in my beginner's kettlebell workout program.
So, watch till the end and share your thoughts in the comments.
If you like my video, Please SUBSCRIBE and don't forget to press the bell, like, comment and share the video.
If you enjoy sport and use CBD to help with your recovery in between gruelling workouts, then your are in the right place. Here at Sport CBDs, we train hard and recover the best way possible…
We have regular workouts (check out the YouTube channel), CBD news and CBD products to help you gain that edge! 
If you wanted to check out the reputable CBD we have on offer here at the site, then please head to the Sport CBDs Store (CLICK HERE). We also do fitness clothing and yoga accessories too. 
Until next time, all the best…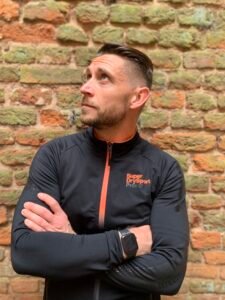 Lee
Founder – Sport CBDs
Disclaimer: Some of these links go to one of my websites and some are affiliate links where I'll earn a small commission if you make a purchase. Shopping through these links is a great way to support the channel so I can keep making helpful videos for you. Thanks!